Agency Growth Kit is a dedicated Semrush add-on that is specifically tailored to the needs of agencies. Each tool focuses on a different aspect that can help improve your agency's performance and growth potential.
What's Included in the Agency Growth Kit?
How Can It Help You?
The Agency Growth Kit allows you to:
Generate new inbound leads for your agency
Find high-revenue marketing contract opportunities
Automate client reporting
Improve your agency-client relationships
Optimize your client and project management processes
Strengthen your brand
Showcase your expertise

What Can You Do With the Agency Growth Kit?
As mentioned, the Agency Growth Kit contains a number of key tools and features, each of which is designed to enhance your agency's client acquisition and management workflows.
Agency Partners Platform
The Agency Partners platform is a dedicated space where agencies can showcase their digital marketing services and generate inbound leads. Only Agency Growth Kit users can be listed on the platform.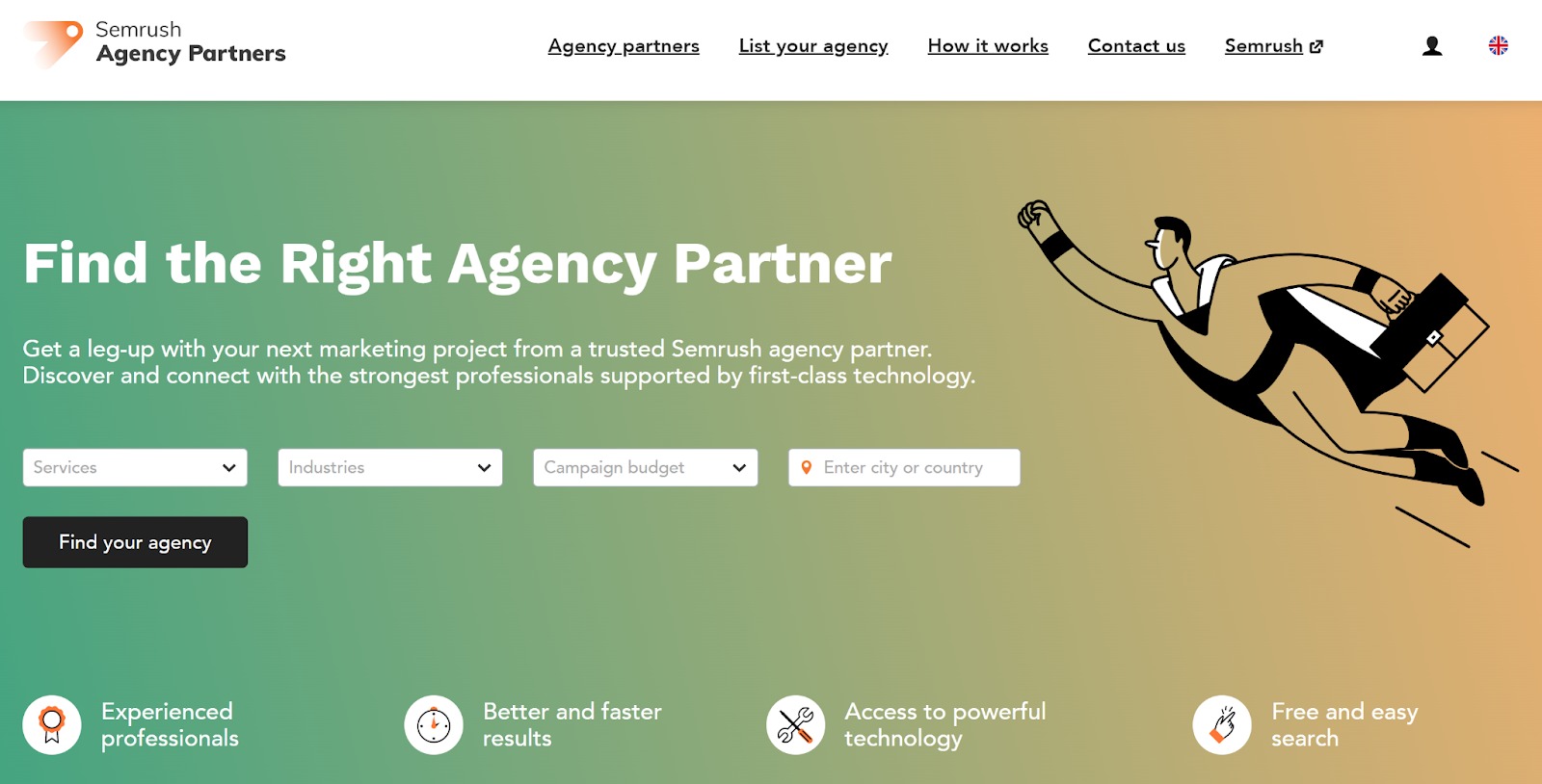 To be listed, you will need to pass two free Semrush Academy exams ("Semrush For Digital Agencies", and another based on your agency's area of expertise). You will then be able to create your agency's profile page, where you can:
Highlight your areas of expertise
Explain what your agency offers
Provide social proof and display success stories
Upload a photo and client testimonial in the Spotlight section
When you become a Semrush agency partner, you will also receive an official badge that can be used in your marketing collateral.
You can learn more about becoming an Agency Partner and setting up your profile here.
Bid Finder
Bid Finder is a user-friendly bid management tool that saves you time and money by gathering marketing contracts from multiple sources, collecting, categorizing, and organizing them for you in one place.
With it, you can easily find marketing contract bids based on category, region, contract value, date, deadline, and more, and apply for these project oppotuninties.
Also, you can save bids and search filters for later, and set email notifications to be the first to know about new marketing bids.
Client Portal
Client Portal is an agency-specific feature of the CRM tool, available only to Agency Growth Kit users. It allows you to create one secure and accessible portal for each of your clients, in which you can easily share with them all their automatically-updated data and reports.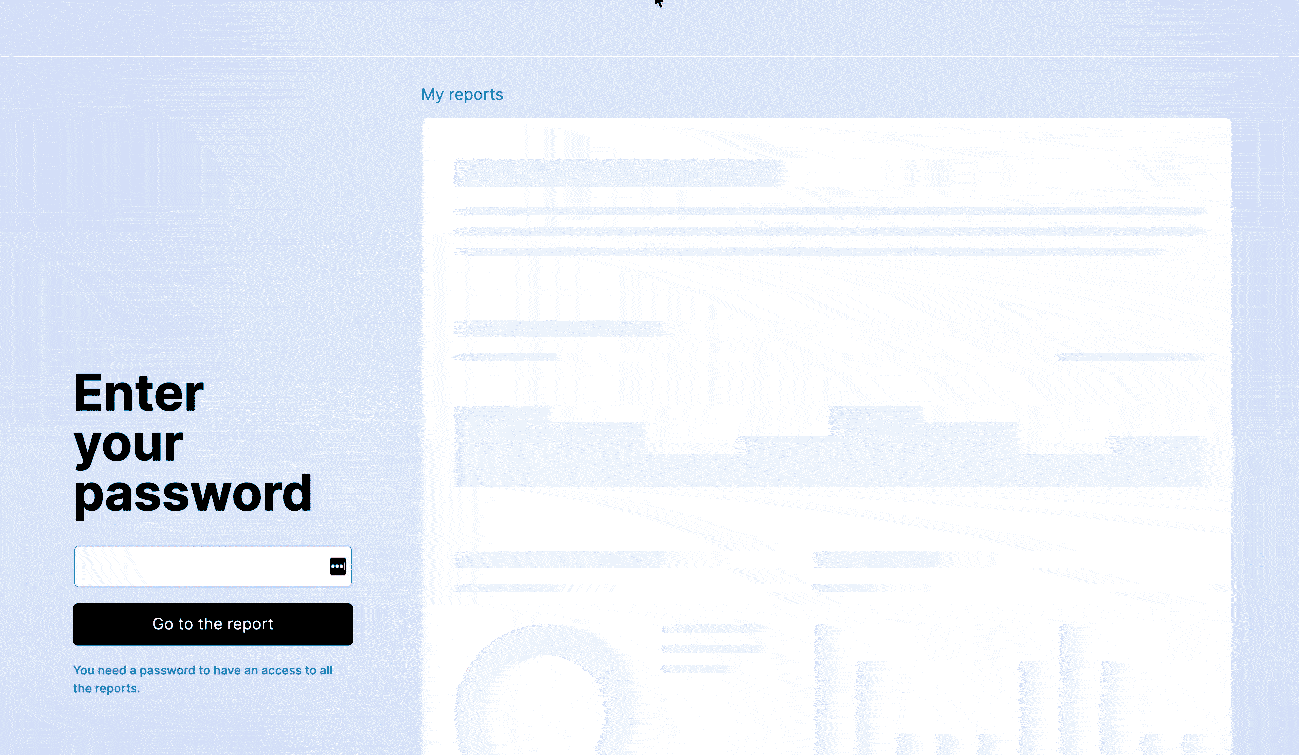 You can learn more about how Client Portal works here. You can also check out the free live demo (password: 1234).
My Reports
My Reports is an advanced reporting tool that lets you create high-quality PDF reports from scratch. As an Agency Growth Kit user, it's also possible to:
Brand reports with your own custom logos
White-label your reports and remove the default Semrush logo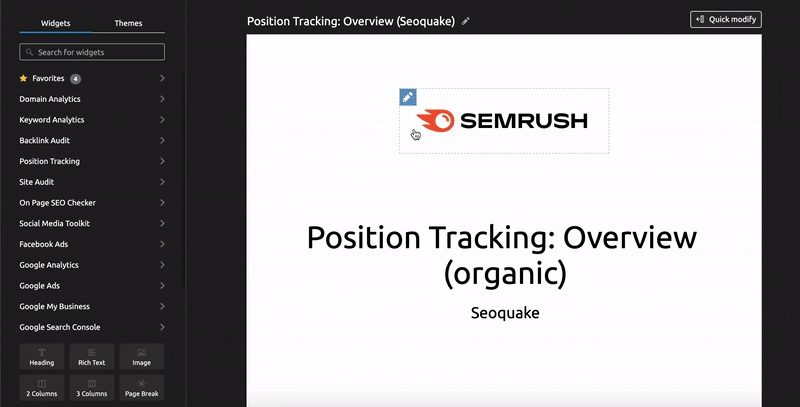 It's also possible to customize your reports' visual style, and choose custom themes that align with your agency's brand. Check out how you can customize your reports in this article.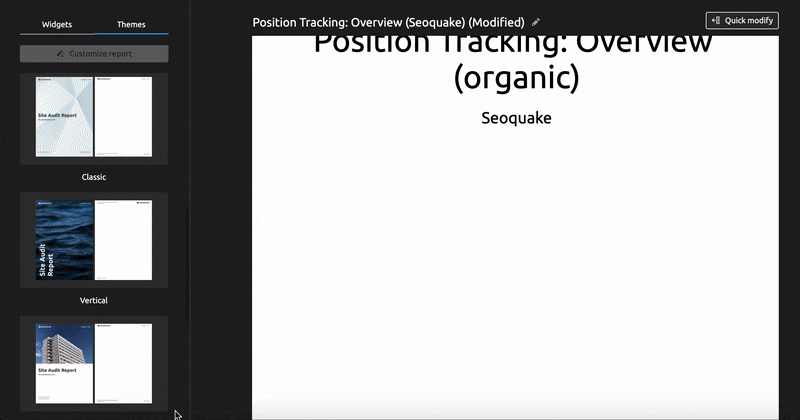 You can learn more about My Reports here.
CRM
CRM is a broader customer management tool that helps you to streamline and effectively manage your CRM workflows. It allows you to:
Organize and maintain your clients, leads, and prospects
Create secure and accessible portals for each client
Set up and connect individual projects and reports
Create and assign tasks for each project / client
Present seamlessly and securely to clients using the Present Mode feature
Upload and securely store up to 50GB of related client documents (such as agreements or NDAs)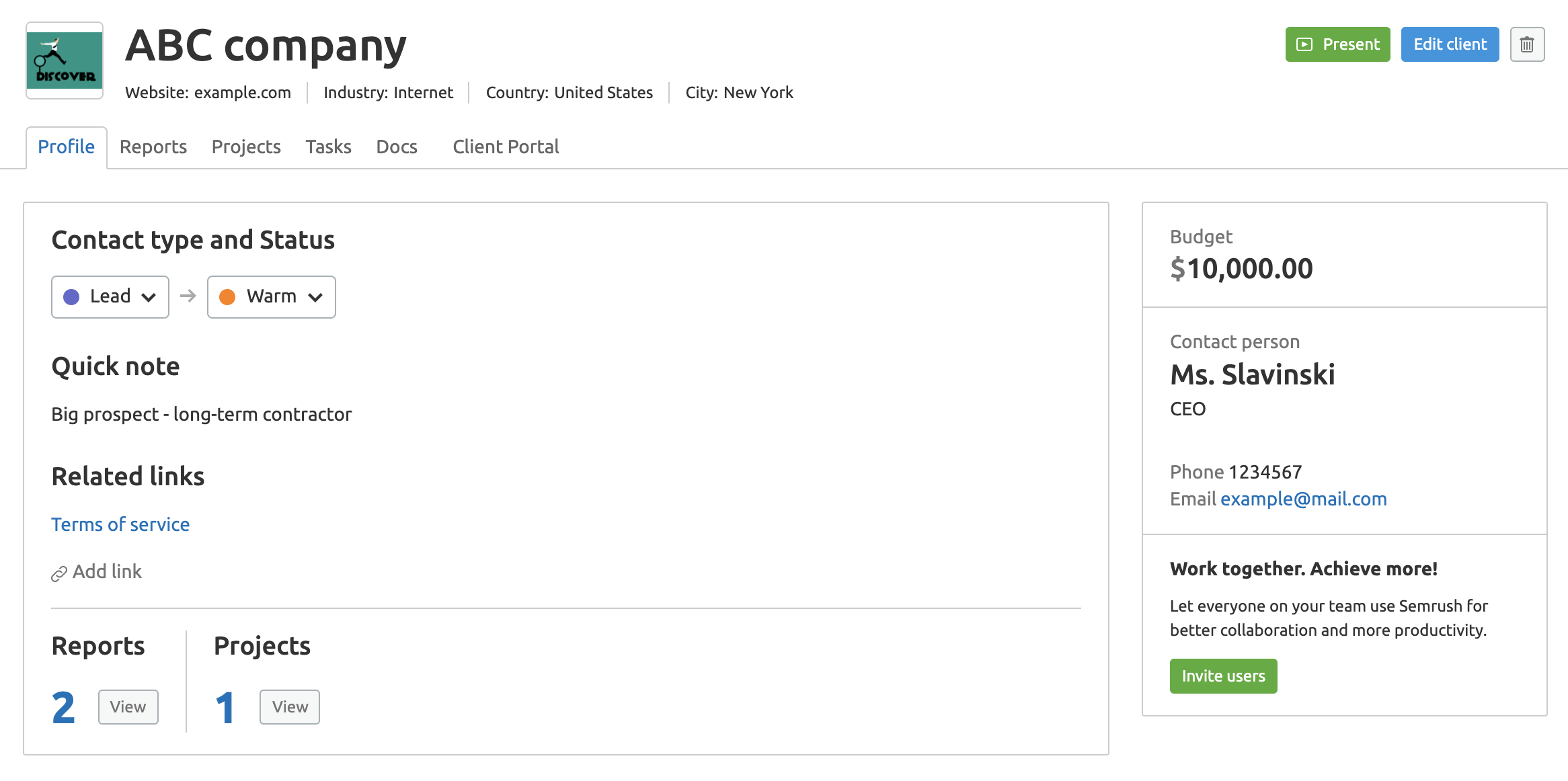 You can learn more about CRM here.
Pricing
Semrush plan + Agency Growth Kit:
Pro: $219.95/month
Guru: $329.95/month
Business: $549.95/month
More information about pricing can be found here.
Frequently Asked Questions
Below are the answers to some of the most commonly-asked questions about the kit.
How Can I Get the Agency Growth Kit?
For existing paid subscribers: Simply go to the Semrush pricing page and select the 'Buy now' button in the Agency Growth Kit row. Alternatively, you can go into the subscription plan section in your user profile, and sign up for the Agency Growth Kit there.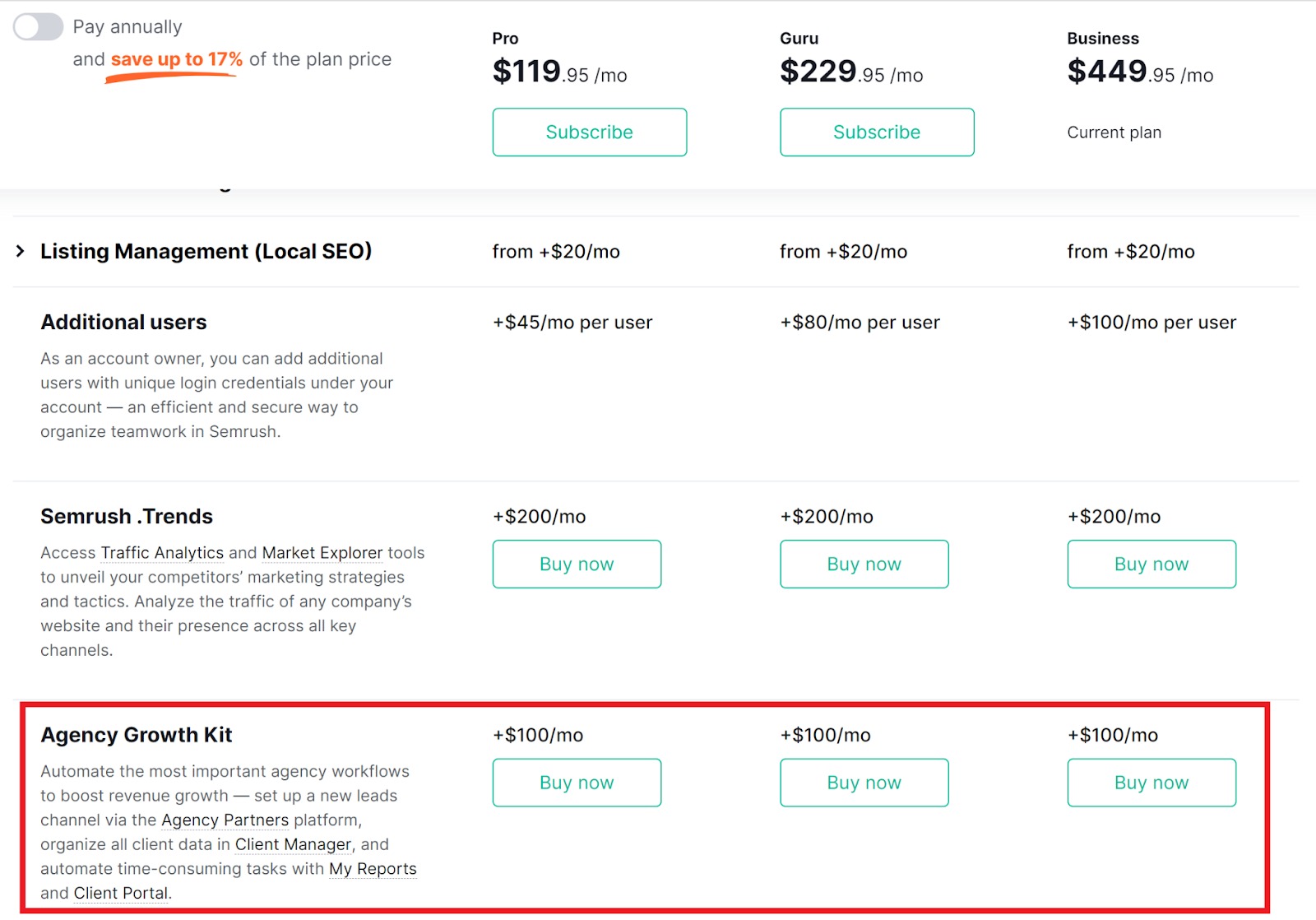 For users that don't have a paid plan: To access and use the Agency Growth Kit, either a Pro, Guru, or Business Semrush subscription is required. You can sign up for one via the Semrush pricing page. Then, simply follow the same instructions for paid subscribers as detailed above.
Note that, regardless of your paid subscription type, the Agency Growth Kit add-on costs an additional $100/month.
Can I Purchase the Agency Growth Kit Separately?
Unfortunately, no. A paid Semrush subscription is required to access and use the Agency Growth Kit.
Can I Just Purchase One Specific Tool or Feature?
No. It is only possible to purchase the Agency Growth Kit as a single add-on with all features and tools included.
Where Can I Find the Agency Growth Kit in Semrush?
You can find the toolkit under the Agency Solutions tab in the main Semrush menu.