To start running a Brand Monitoring campaign, you need to provide a main keyword, any "alternate keywords" to also include, and any keywords to exclude from mentions.
Main keywords: Brand Monitoring will only show you pages that have at least one of your main keywords.
Also include these keywords: Brand Monitoring will only show pages that have one of your main keywords and also at least one of these keywords as well.
Exclude keywords: Brand Monitoring will not show any pages that mention your main keyword if an "exclude" keyword is also found on the page.
As you enter your keywords to track, you can get a preview of the keyword set we'll look for under "Campaign Summary."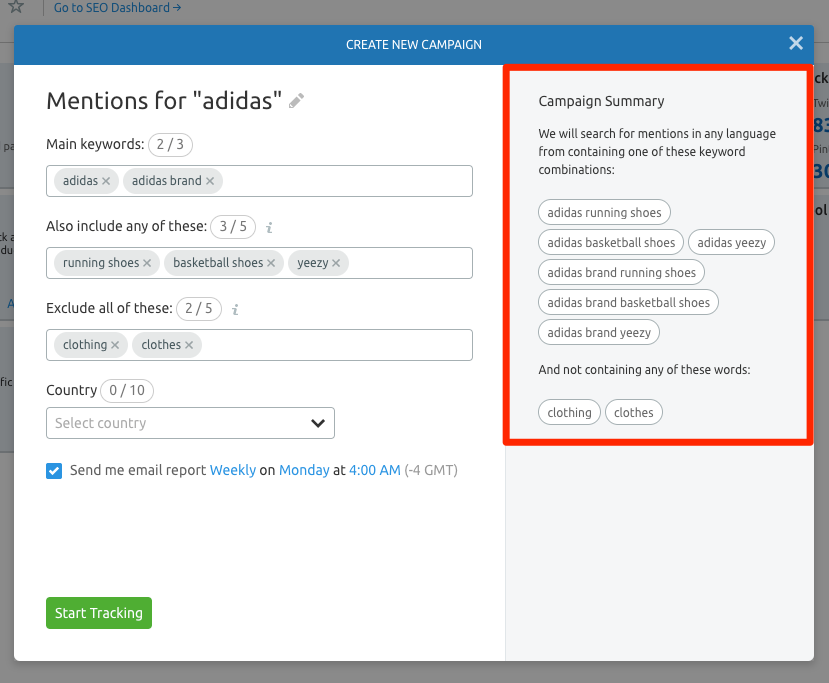 You also have the option of looking for mentions in a specific country. The number of countries you can choose from depending on your subscription level. As of now Free and Pro users can only choose 1 location. However, Guru users can choose 3 locations and Business users can choose up to 10.
Once your campaign is up and running, you will be able to filter mentions by their language in the Brand Monitoring Mentions feed.
Lastly, decide whether or not you'd like to receive a weekly email report of your latest mentions every Monday.
Creating new campaigns
Every Project can consist of 3 Brand Monitoring campaigns. To create a new campaign, simply find the blue "+ Add campaign" button and set up a new campaign tracking a different set of keywords.


You'll be able to see how many out of your 3 campaigns per Project you have set up from the Project's dashboard, where you get an overview of all of the Project tools set up in the same Project (see below).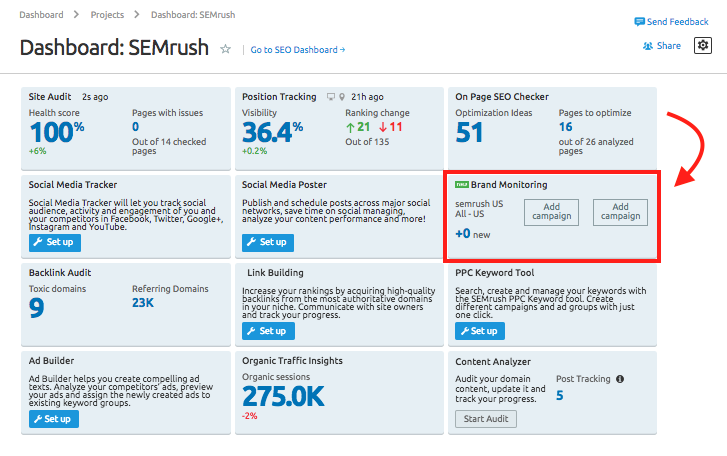 Once your campaign is set up you can change your settings at any time by clicking on the settings gear icon at the top right of the tool's interface.
Scheduling Emails
Brand Monitoring has a mailing system that allows you to send three different reports to three recipients every day, week or month. You can update this with the "Email reports" option (1) once your campaign is already running. In the window, you can schedule a report daily, weekly, or monthly on any specific day. Select "+add schedule" (2) to set up an additional scheduled email.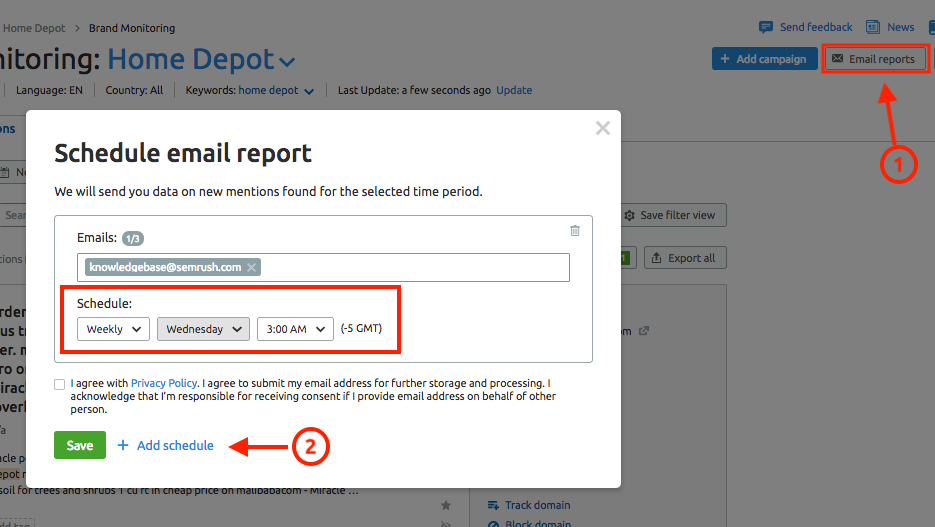 Checking Your Brand Monitoring Keyword Count
To check how many keywords you are tracking or edit your keyword list, use the "Keywords" drop down above your table once your campaign has started running.
In the next article, Brand Monitoring Mentions Feed, you'll learn how to review your mentions feed, organize with tags, labels, and favorites, and make modifications to your campaign all before exporting your data to CSV.