After configuring your Brand Monitoring campaign, you'll see your list of mentions in an organized feed. This is where you'll be able to comb through the articles and blogs Semrush finds mentioning your keyword on a daily basis. If you're running a PR, branding or a media buying campaign, you might want to check this feed once a day to stay on top of any press that comes in. Read this article to learn the workflow to manage your mention feed and draw conclusions from our data.
Reviewing Your Mention Feed
Above your feed, you'll see a number of controls to customize your view. First, you can flip between reviewing all Web mentions or just your brand name's mentions on Twitter or Instagram. For a user manual on the Twitter feed in this tool, follow this link.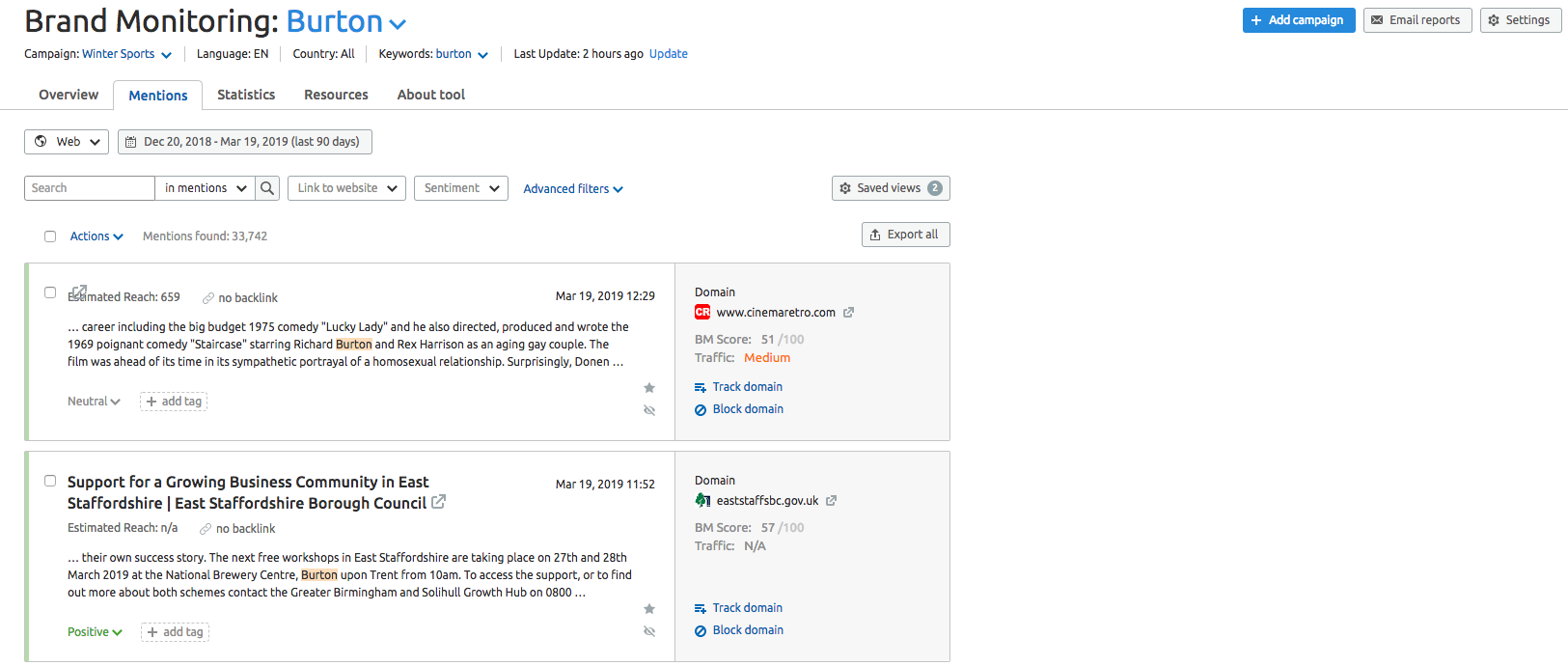 Use the calendar to narrow your feed to showing the most time-sensitive mentions. There are quick options to show the last 1, 3, 7, 30, 90 days, or all time. You can also set a custom time period to analyze mentions if you want to hone in on a specific campaign or month in time. Keep in mind that when looking for all new mentions in your campaign, they will be marked with a green bar on the left.
Each mention comes with a few metrics to measure its impact:
Authority Score
Estimated Reach
Traffic
Authority Score is our way of measuring a domain's authority and impact when giving you a mention.
Estimated reach estimates how many people a specific mention reached, taking into account a domain's traffic value and big-data analysis.
Traffic comes from Traffic Analytics and Brand Monitoring sets these labels relative to the domain with the highest number of visits among all domains found in your campaign. The traffic level is located on the right-hand side of your mention cards.
These labels are broken down into four categories:
High - Domains that have the highest traffic
Medium - Domains that have 10 times less traffic than the domain with the highest traffic
Low - Domains that have 100 times less traffic than the domain with the highest traffic
N/A - Domains without measured traffic value at the moment
While this is the case for many domains, if we find a domain with over a million visits it will automatically be labeled as high. If this is the case, the medium level would be considered traffic less than 100k and low less than 10k.
Sorting Mentions
If your branded keyword gets a lot of mentions, keeping your feed as organized as possible is going to be necessary when it comes to reporting your findings or starting any outreach.
You can sort your mentions by using the "Actions" drop down to mark mentions as read, unread, delete, add to favorites, block the domain from your campaign, or add tags.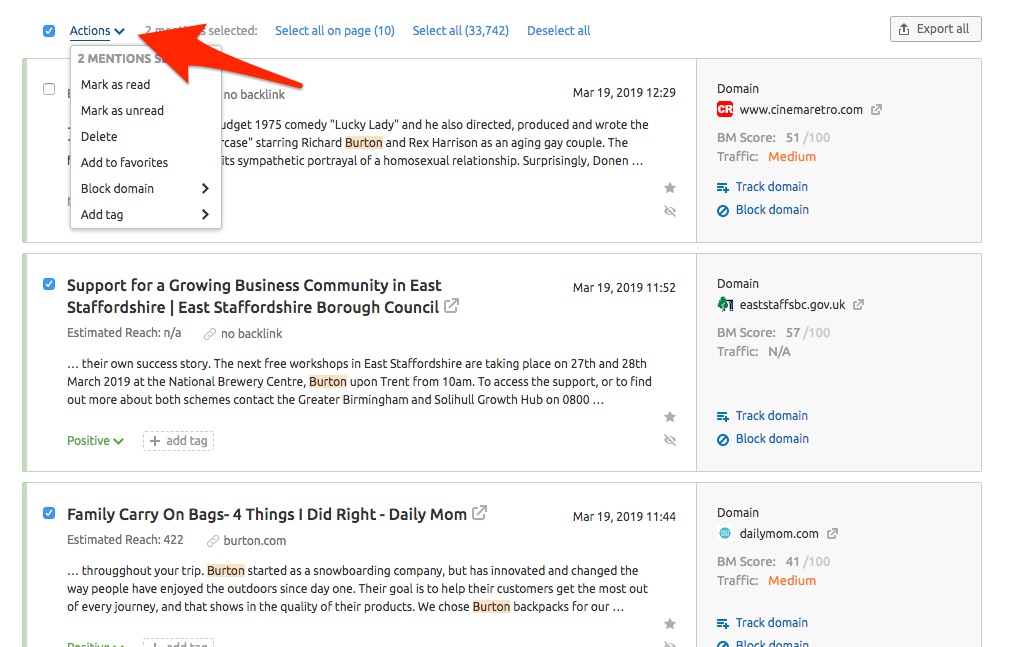 To make your sorting process easier, you can apply filters to the feed, then take actions to your filtered group of mentions.
Filters
Ways to filter your feed include:
Mentions that include a specific word or phrase
Domains that include a specific word or phrase
Titles that include a specific word or phrase
Mentions that link to your domain
Mentions that do not link to your domain
Mentions that link to a specific URL
Mentions by language
Mentions by country (*depending on subscription level*)
Advanced filters include:
By source: Blog, News, or Web mentions
By tag
By range of Authority score
By Traffic - high, medium, or low
Mentions from your tracked domains
Favorited mentions
Trashed mentions
You can also search for mentions by Web, Forums, Twitter and Instagram. To do this simply hit the dropdown menu next to the date and select which source you want to search from.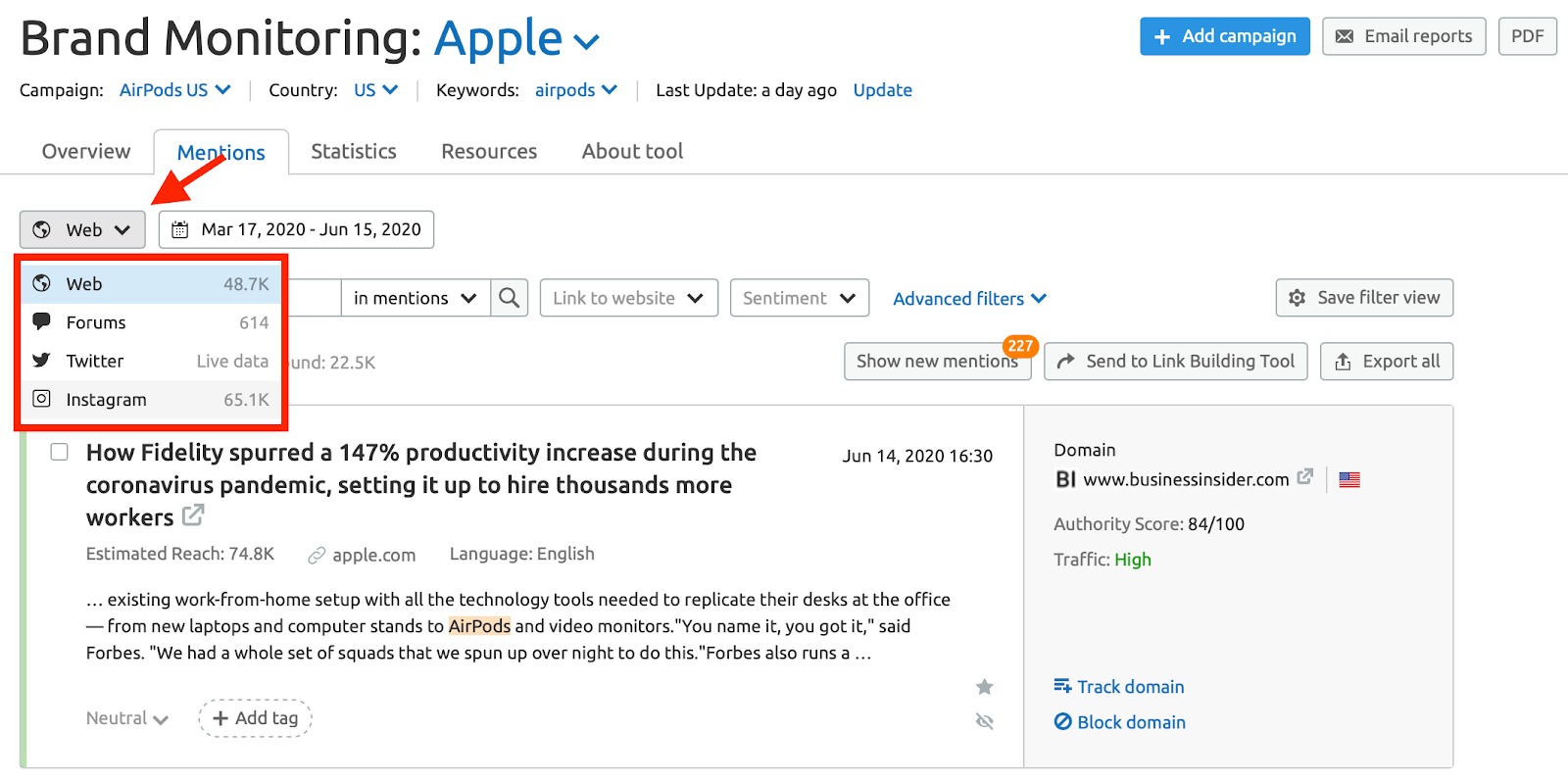 Filter by Source
With the "By source" option, you can choose to view only mentions that appear on Web pages, Forums, Twitter, or Instagram results. This is a great way to narrow your list if, for example, you wanted to look up opinions on forums or keep an eye on any recent talk on social media surrounding your brand.
Please note: Only Guru and Business level subscriptions can gather forum, Twitter and Instagram mentions. Pro and Free subscriptions can only gather web mentions.
Web mentions will show mentions of your brand name across normal sites on the Internet that are not a forum or Twitter or Instagram. This filter will show you mentions on news sites, review websites, and other general websites.
Forum mentions will show you what people are saying about your brand on forum based sites. Forums are generally very niche and focused websites where people that are experts in a certain area converse and answer each other's questions.
Twitter mentions can gather any mention of your branded phrase in any public tweet or reply on Twitter.
Instagram mentions gather any mention of your branded phrase in a post description or comment on a post on Instagram.
Finding Mentions on Facebook
Facebook is obviously a major platform for people to speak out about brands and their experiences with them. If you want to see how your branded term is mentioned on Facebook, simply add Facebook.com as a domain filter to this report.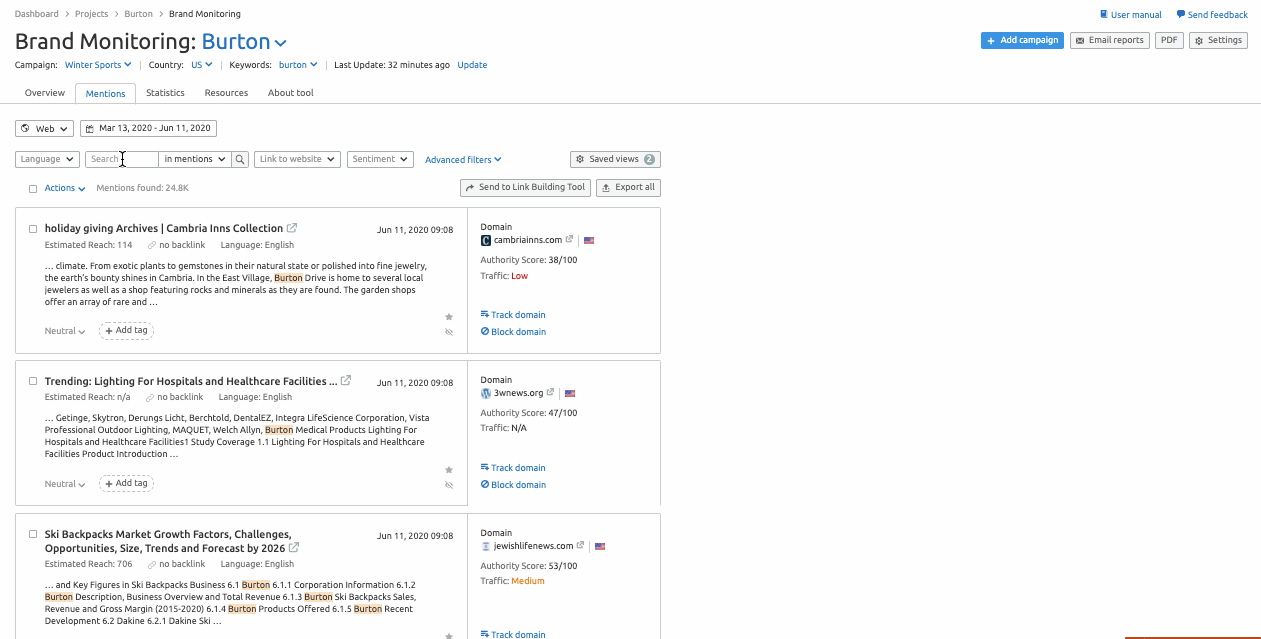 The resulting mentions you see will be public posts on Facebook. We cannot gather anything posted on a private account, page, or group.
Of course, you can use this filter to look for mentions on any specific domain, by entering that domain name in the filter box with "in domains" selected in the dropdown.
Authority Score
Filtering by Authority Score ensures that you are looking at the mentions with the highest authority. This score is based on Semrush's Domain Score and measures the domain's authority and influence on a 100-point scale. The higher the score, the more meaningful it is to receive a mention from this website.
Filter by Country and Language
If you are running a campaign that spans multiple languages, you are able to filter your results out by the specific language. If you are a global company, this can help you see how you are being perceived amongst the different languages.
Not only can you filter out by language but you also have the option of looking for mentions in a specific country. If you are a Guru or Business user you have the ability to track multiple databases so this filter can help you narrow down your results.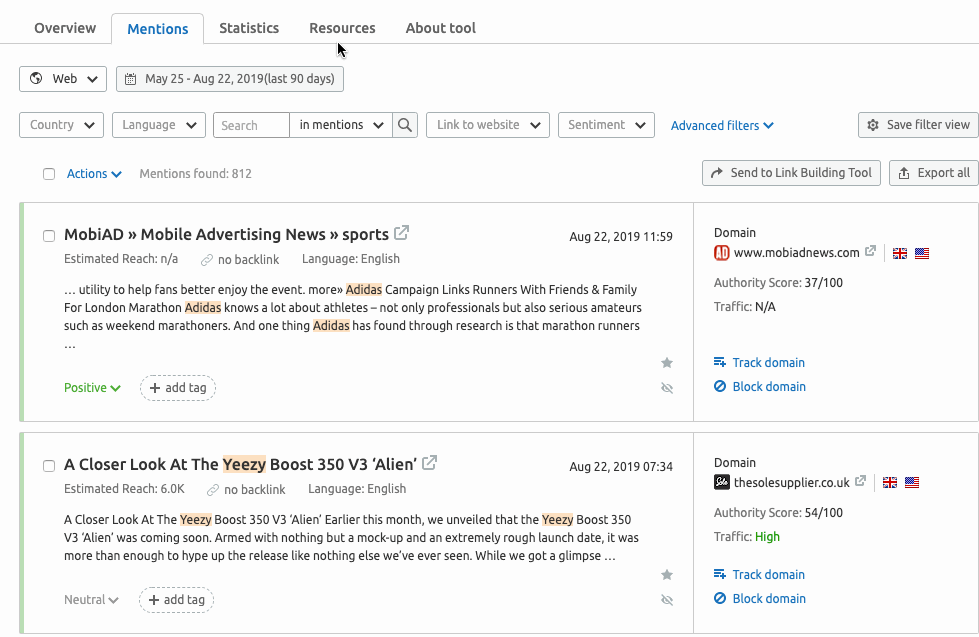 *Guru users can choose 3 locations and Business users can choose up to 10*
Link to URL Filter
Another useful filter is the Link To URL filter in the Mentions tab. This filter allows you to view any mentions that link to a specific page on your website. You can add any URL by clicking on the link to the URL drop-down menu and entering the URL. If you're interested in seeing how many links your mentions have built, you can use this filter to find out.
Saving Filters
After applying filters to your feed, you can save a "filter view" to your campaign for quick access in the future. To save a filtered view, apply your filters and enter a name for your new view. Once a filter is saved, you can access it with the "Saved views" button.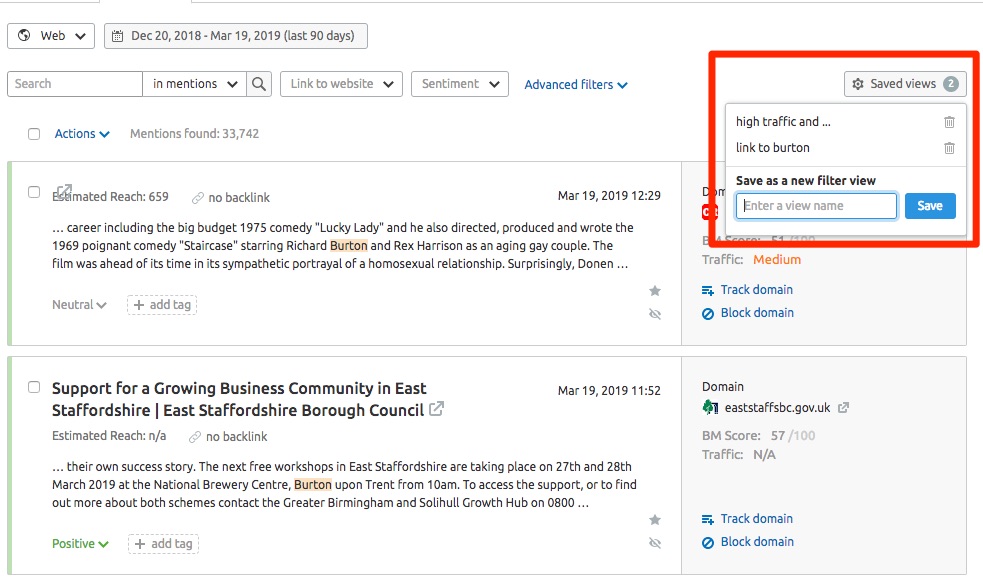 Labeling Mentions
While scrolling through your mentions, you can label, tag, and remove mentions to focus your analysis on what you want to see. You'll notice the buttons to enable these functions besides each mention. There will be a favorite, tag and trash can icons directly to the right of each mention. After you favorite or tag mentions, you can filter your feed to show your corresponding mentions with that tag (or your favorites).
Blocking Mentions
When you choose to block a mention, you will be shown a dialog box to mark the mention as "Irrelevant" or "My resource."
Each time a user blocks a specific domain for being a poor source, this domain is marked as trash in our database. If enough users mark the same domain as trash, then we will eventually update our database to remove mentions from this site altogether.
The domains that you choose to block for your campaign will be sent to your Resources tab. From the Resources tab, you can block a domain from appearing in your other campaigns as well, or unblock a domain to let its mentions show up in your feed again.
Tagging Mentions
If you notice that you are getting mentions from websites with similar interests, you can label these different websites with the same tag. Tagging your mentions as they come in makes it easier to search in the future.
For example, let's say you are getting multiple mentions of your brand name that also include the word "clothes" or "clothing" in the same article. You can filter your view to show all articles about clothes and apply a tag in bulk.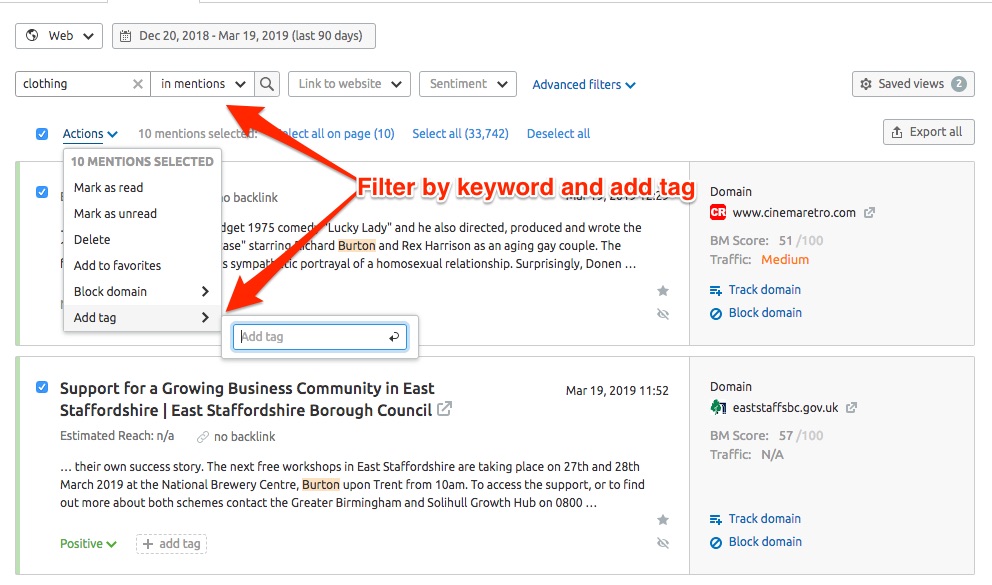 Other common tags to use could be organizing all your video mentions with a "video" tag, any mentions of your business owner or CEO with a "CEO" tag, or any article authors with tags of their name. All of your different tags can be found under the tags drop-down menu. This allows you to easily switch between all of your different tags.
Sentiments
All new mentions now receive a sentiment (positive, negative, neutral) based on our own machine learning algorithm.
This can be great in saving you time and effort when trying to find the mentions you are looking for. You can easily filter out by positive, negative, neutral sentiments to see the mentions that align with the sentiment you're interested in.
There is also an option to manually change the sentiment for each mention. Simply click on the dropdown menu in the bottom left and label accordingly.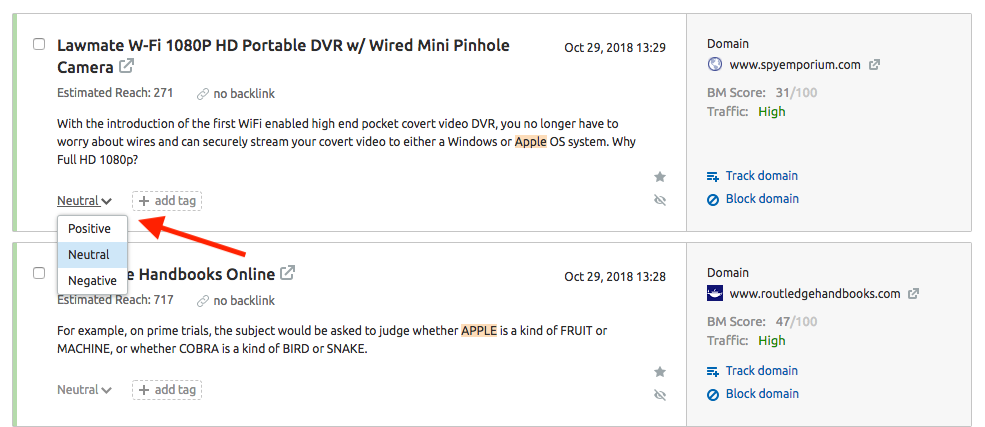 Using Brand Monitoring to Build Links
Please note: The ability to send mentions to the Link Building Tool is limited to Guru and Business subscriptions only. Free and Pro accounts do not have this ability.

Brand Monitoring is also a great link building tool because you can track 3 campaigns per project and look for opportunities to get links from various mentions related to your website.
For example, let's say you run a burger franchise in Los Angeles and you want more links to your website to boost your SEO.
In addition to running a campaign to track your business' branded keyword ("In-N-Out," for example), you could set up another monitoring campaign for a target keyword like "great restaurants in LA," "burger review," or "places to eat." Then Semrush would find blogs and articles that write about your niche (burger restaurants in LA) and could be interested in your website and potentially sending a backlink to you in a future article.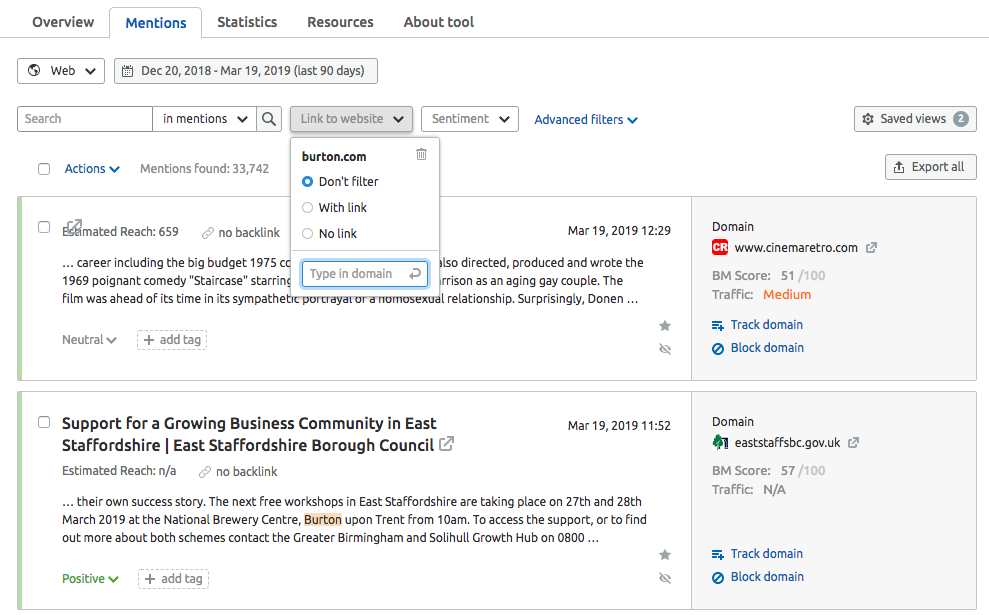 You can also filter these domains to see if any of them are already sending backlinks to you or a competitor with the "link to website" filter.
If you see a brand mention or a target keyword without a backlink you can jump at the opportunity and send it to the Link Building Tool using the button in the upper right corner.
In the Link Building Tool the mention will be displayed as a manually uploaded opportunity.

To monitor the links that you've built through mentions, use the Brand Monitoring Statistics tab.