The Post Tracking report in Content Analyzer gives Content Marketers a way of measuring the success of their external content efforts. The Post Tracking data is automatically updated every day.
Reviewing Your Articles
As you open the tool, you'll be asked to add the URLs of the articles you want to track. After you enter the first URL and hit "Start Tracking," you will be taken to the table. You can add up to 50 articles per Project.
At the top are boxes where you can add more groups. You can edit the group and rename or delete it when you click the edit group button in the top right of the dashboard.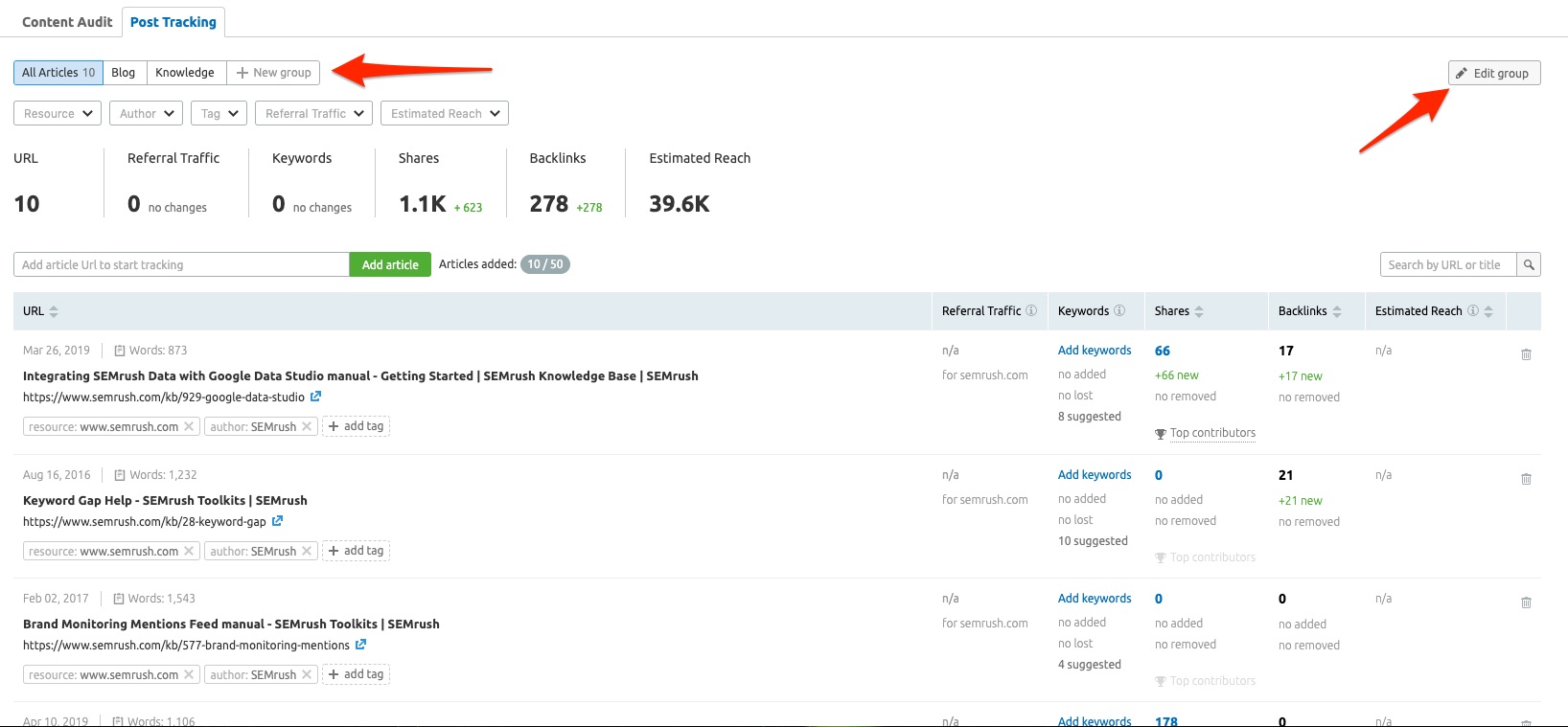 Above the table, you will see the six preview metrics (URL, referral traffic, Keywords, Shares, Backlinks and Estimated Reach) measures for the totals of your group.
URL: the number of URLs you are currently tracking.
Referral traffic: the number of traffic that came to a post from a source outside of a search engine. This data is gathered when you connect your Google Analytics account to the tool.
Keywords: the number of your target keywords that your posts that are ranking for in the top 100. You can track rankings for up to 5 target keywords for each post and edit this list of keywords at any time.
Shares: the number of times your tracked articles were shared among social media platforms.
Backlinks: the number of pages across the Internet that are linking to your article.
Estimated Reach: the number of potential people that this article has reached based on a domain's traffic value and big-data analysis.
If you have one campaign with 10 articles, you can get a good overview of your campaign's progress here. But if you want to see which individual articles are doing the best, you'll want to filter or sort the table.
You are able to sort by resource, author, tag, referral traffic, estimated reach and URL or Title.


Generally, you are going to want to see higher numbers for these metrics because it can show you which pages are performing the best on your website. If you see some pages that are lacking in shares or backlinks, these may be the pages that have priority when it comes to improving your overall visibility.
As you sort and filter, you'll learn which posts are getting the most exposure on social media and which ones are bringing the most backlinks. If a post has a high number of backlinks, you can conclude that the information in your post was found helpful and relevant for other websites.
If a post has a high number of social shares, you can conclude that the site it was published on has a well-engaged audience. For this reason, take note of which sites give your content the most shares.
Under "shares" you can also see your Top Contributors. Top Contributors are the biggest Twitter profiles that shared or retweeted your post.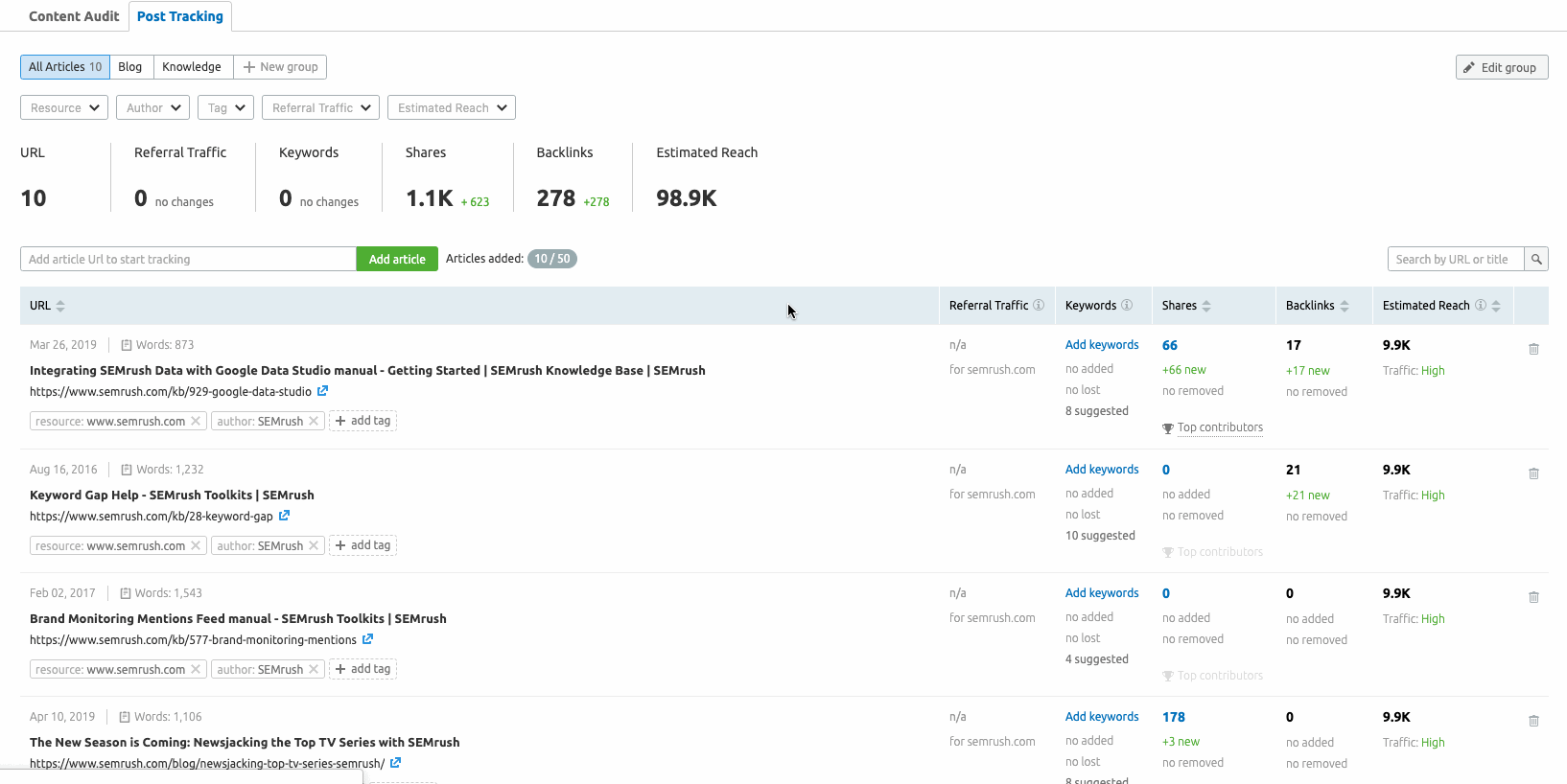 If a post from your campaign was shared by an influential Twitter account, you'll want to keep your relationship with that publisher positive. Hopefully, they will see the value in your post for bringing mutual exposure to your websites and will be open to letting you guest post again in the future.
It's also a good idea to keep track of your posts with a high estimated reach. The higher the estimated reach the more potential eyes you'll have on your posts.
Tracking Keyword Rankings
You can add keywords to your campaign by clicking on the "add keywords" button under the keywords column. When you add a keyword, Semrush will track how your article ranks in Google's search results.
You can track up to 5 keywords per article and if you don't know what to track, we will recommend 10 keywords that you can choose to add.
You are able to add keywords from the US, UK, Australia, France, Germany, Italy, and Spain databases. Keep in mind if you choose to change your location of keyword tracking, all of your previous data about that article will be lost.
Clicking on the article directly will allow you to see any daily changes involving this article's keyword rankings.
How does this report help you achieve your Content Marketing Goals?
The goal of a Content Marketing campaign is to grow the reach and exposure of a brand or website through Internet content - both on and off your domain. Quality content leads to backlinks and backlinks boost SEO, so publishing high-quality content on the Internet from your brand can lead to better SEO for your website.
However, it isn't always easy to quantify the impact of external content on your brand or website. Two of the most common forms of external content marketing is guest posting and syndication.