In most cases configuring Social Media Poster goes seamlessly. However, there are some particulars that can cause issues and should be kept in mind.
Refreshing an Expired Connection
Please note that all of your social media connections to the Social Media Poster require refreshing every 60 days before the connections will naturally expire. To refresh the connections, you need to log in to the Poster tool and refresh your connection there.

The dialogue will take you to the social network to log in and this will reconnect the profile to Semrush.
If you want to receive notifications when your connections are about to expire, go to Notifications section in the settings menu of the Social Media Poster.
Facebook:
If you are having trouble connecting to your Facebook page to Social Media Poster there are usually four reasons why this is happening.
1. You're Not Providing all Required Permissions
The first reason you may be having trouble with Facebook is that you haven't provided Semrush with all of the required permissions.
Luckily this is a rather easy issue to solve. The first thing you need to do is to log into your Facebook profile (that has the required permissions), then navigate to your settings and look for business integrations. Once you're in the business integrations section on your Facebook profile, revoke access for Semrush app then go back into your Social Media Poster and try connecting to your Facebook account again.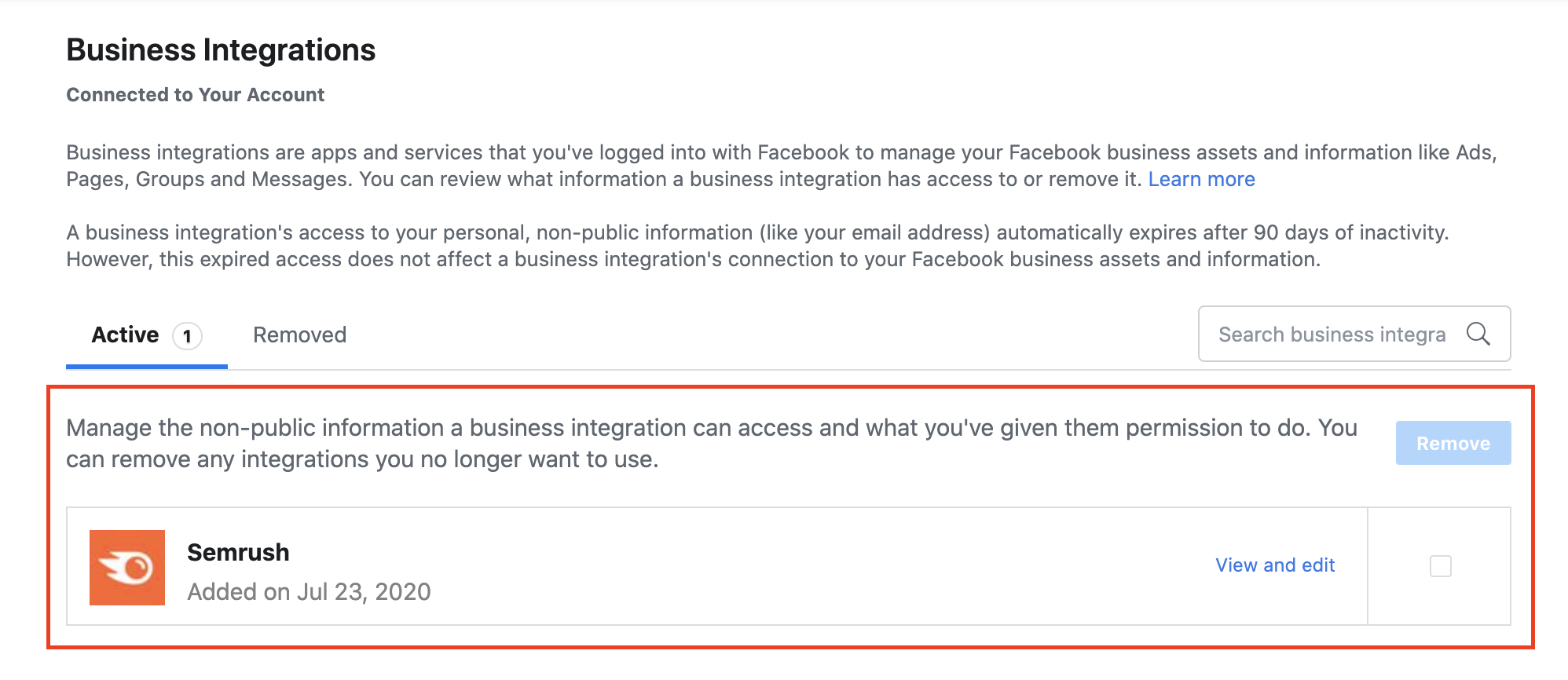 Make sure that you are allowing all of the permissions we ask for and you should be good to go.
If you are an admin of several Pages, you need to choose all the pages that are or will be connected to all Semrush projects when connecting the account in one of your projects. For example, if you have two projects, and you are an admin of two different pages, you need to choose both pages when you set up campaigns in your projects. If you had already connected Page 1 in Project 1 and when, while connecting Project 2 to Page 2, you select only Page 2 (and deselect Page 1), this will lead to disconnection of Page 1 in Project 1.
Keep in mind that we do not use, store, or even fetch any of your personal data from your Facebook Profile.
2. You're Logged in Under a Different Facebook Account
The second reason why you may not be able to connect is that you're already logged into Facebook but under a different account. You should double-check to make sure the account that has the granted permissions is connected.
If it's not, try logging out of your Facebook profile and logging back in with the correct account.
3. You Don't Have the Full Permissions from Your Page Administrator
Finally, there are various permission levels and types for your Facebook profile. In some cases, you may only have permission to post and not permission to analyze. If you find that this is the case, you should contact a page administrator who can promote your access to gain all permissions.
Please note that we will only see the list of pages where you were the admin when you connected the account. We will not see the new pages that you become an admin of after you connect your account. If this is the case, you need to revoke the access to the Semrush app, then go back into your Social Media Poster and try connecting to your Facebook account again.
4. Connection Failure
Sometimes there are undefined issues that can be cured by reconnecting Semrush to your Facebook account. To do so pick "Profiles and queue" from the Social Media Poster settings menu and remove the target profile.
Then connect the profile back from any of the Social Media Poster pages.
If you experienced issues with uploading data, you'll have to get to your Facebook Business Integrations page and remove Semrush from your integrations list.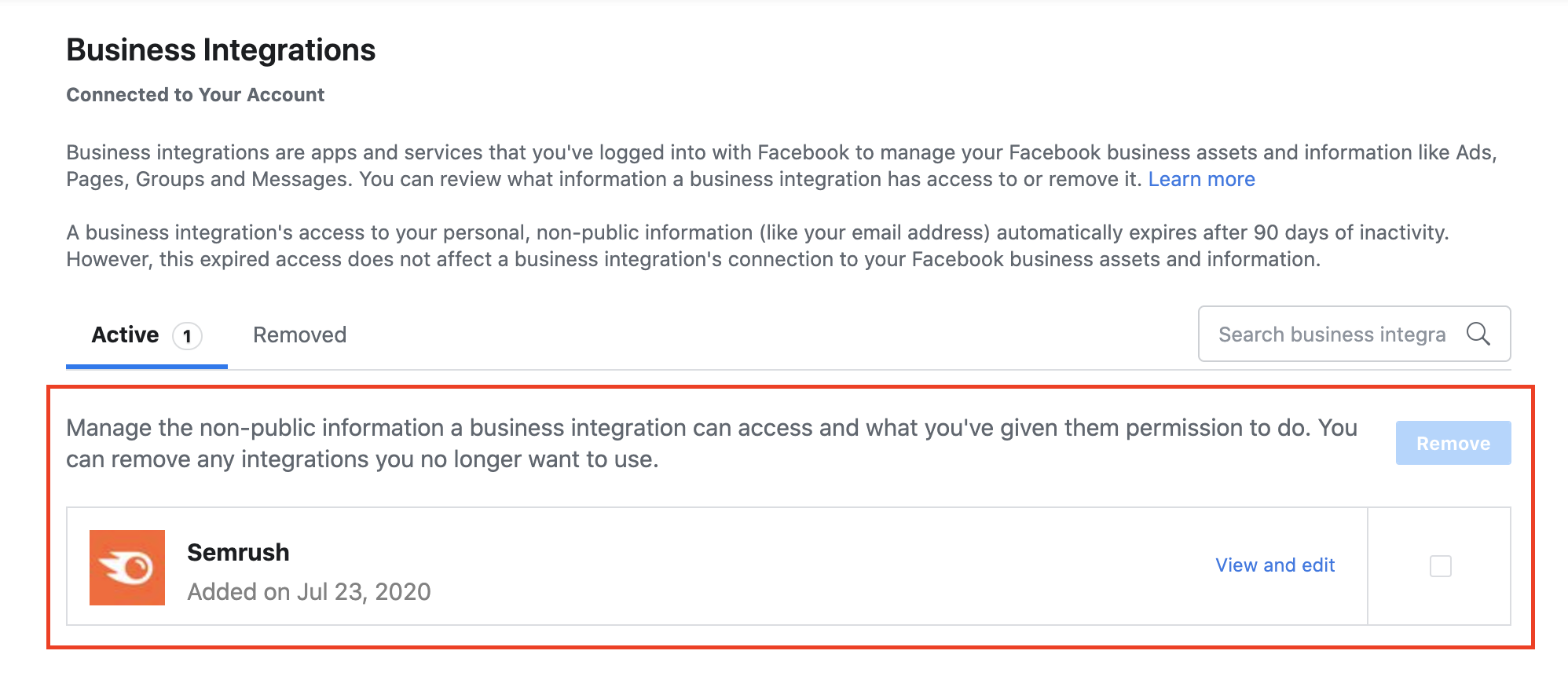 Please be careful and don't delete any of the content you've posted.
Then reconnect your account as described above.
Instagram:
The situation with Instagram is almost the same as with Facebook, except for one step.
1. Your Instagram Account Is Not Business One
Instagram integration is available for business Instagram profiles only. To use Social Media Poster choose "Switch to Professional Account" in your account settings.
2. You're Not Providing all Required Permissions
All Instagram profiles are connected via Facebook, so you have to make sure your profiles are interlinked and check if all Facebook permissions are granted as described above.
3. You're Logged in Under a Different Instagram Account
If you have more than one Instagram account, please double-check that you are currently using the one that is connected to Social Media Poster. In case you find out you are not, just switch to the right one.
4. Connection Failure
Sometimes the connection error keeps repeating itself for no obvious reason through no fault of Semrush. Here's a list of actions that can still help remedy the situation:
Switch your Instagram account to Personal and then back to Professional.
Unlink your Instagram account from your Facebook account using the "Unlink" button in the Facebook section of the Linked Accounts menu.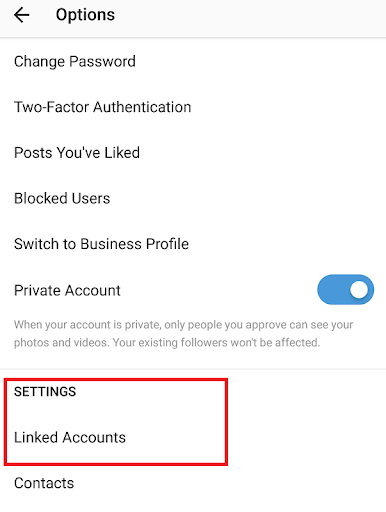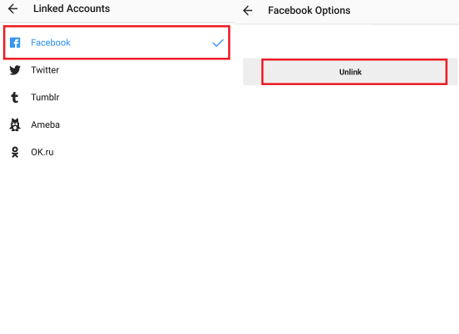 Luckily neither our team nor our users have ever encountered issues connecting Twitter, YouTube or Pinterest to Social Media Poster.

However, if you encounter any issues with these networks, you can try to disconnect your profile and then connect it again. Feel free to reach out to us at any moment for help.